Pat Hendricks Shihan, 2016 UK Seminar
at High Wycombe Judo Centre
1st - 3rd July 2016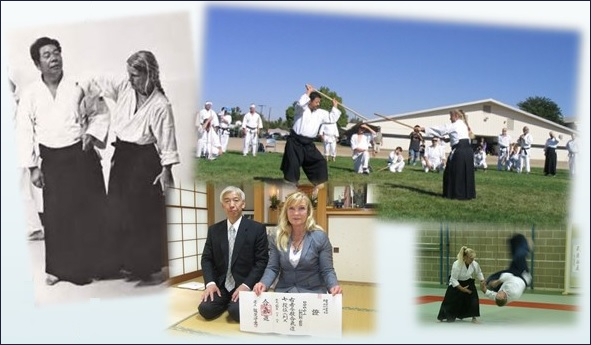 This year Pat Shihan will be celebrating her 42nd year in Aikido. Within two years of starting Aikido, she had moved to Iwama, Japan to study under Morihiro Saito Shihan and returned over 25 times.
In total, Pat Shihan has spent six years living as Uchi Deshi in Iwama. Apart from his son and successor, Hitohira Saito Sensei, she has spent more time over more decades training with Morihiro Saito Shihan than any other student and was awarded menkyo kaiden in both weapons and Tai jutsu.
While remaining true to her Iwama lineage, Pat Shihan has always supported the Aikikai Foundation and Hombu Dojo. In 2013 Pat was awarded the rank of 7th Dan directly from Doshu Moriteru Ueshiba and was awarded Shihan in 2015.
The weekend will consist of a mix of Tai Jutsu and Bukki Waza Classes.
We are a very open group and all styles of Aikido and all levels of rank are very welcome.
Location:
High Wycombe Judo Centre
Barry Close
Cressex
High Wycombe
Bucks
HP12 4UE
UK
Website: http://www.wycombejudocentre.co.uk/
Cost:
| | |
| --- | --- |
| All three days | £100 |
| Saturday and Sunday | £85 |
| One day (Saturday 2nd or Sunday 3rd only) | £45 |
| Friday Evening Class only | £10 |
| Special Keiko (Optional Class) | £15 |
Timetable:
Friday 1st July
12:30 - 13:15
Registration
13:30 - 14:45
Tai Jutsu
15:00 - 16:15
Weapons
19:30 - 20:45
Weapons
Saturday 2nd July
09:00 - 09:45
Registration
10:00 - 11:00
Tai Jutsu
11:15 - 12:15
Weapons
12:15 - 12:45
Dan Tests
14:00 - 15:00
Special Keiko
15:15 - 16:30
Weapons
16:45 - 18:00
Tai Jutsu
Sunday 3rd July
09:00 - 09:45
Registration
10:00 - 11:15
Tai Jutsu
11:30 - 12:45
Weapons
14:00 - 15:15
Weapons
15:30 - 16:45
Tai Jutsu
Special Keiko:
The Special Keiko is an optional class which will cover Kaeshi or countering techniques.
Saturday Evening BBQ:
There will be a BBQ served in the Judo Club Bar on Saturday evening and costs £15 per head. The menu will cater for vegetarians but will not cater for other special dietary requirements.
In order that we can provide the Judo club with numbers it must be booked and paid for two weeks ahead of the event. We will not be able to cater for late bookings.
Seminar Booking & Payment Options:
Online booking for the Seminar & the BBQ are now closed but it will still be possible to pay for the seminar on the day (but not the BBQ).
Accommodation in High Wycombe:
There are many hotels and guest houses in High Wycombe which are close to the Dojo and can be found on all the main search engines. The closest hotel to the Dojo is the Holiday Inn.
The Judo club will allow participants of the seminar to sleep on the mat. Please bring a sleeping bag.
The cost is £10 per night and includes an egg, bacon or sausage sandwich plus tea & coffee for breakfast. To book a place please email jackie@wycombejudocentre.co.uk , mark the subject line as Pat Hendricks UK Seminar and let them know how many nights are required.
Travelling from abroad:
The nearest airport is Heathrow and buses run regularly from Heathrow to High Wycombe. For a timetable see: http://www.carouselbuses.co.uk/timetables-and-fares/a40/. The Judo club is a short taxi journey from the bus station.
Three Rivers Aikido does have some weapons which students travelling from abroad may borrow. Please notify us in advance and they will be allocated on a first come first served basis.
Contact Information:
If you have any queries please contact Ray Gardiner
Please Note: